IMPORTANT NOTICE
We are all working remotely but are happy to take your calls and will work to help you with your Medicaid Planning and Estate Planning even while we have to keep the office closed.
In-Home Appointments available for those who need it
*There is an extra charge applicable For-In-Home-appointments
Oklahoma Probate Attorney
Your savings and your assets are an important part of your power to help others. They are your power to guide, lead, comfort and support those you love and value in your life. This power should be used with great care, with the most wisdom that you can bring to bear. This power should not be stolen, wasted, nor left to chance.
I believe that you have the right and the moral responsibility to plan and direct how your power will be used when you are no longer here to control and use that power yourself.
If you share these beliefs, I have tools to help you fulfill your right and obligation to carefully share your financial power. Your Trust and your Will can, and should, be carefully crafted with this end in mind. Make a plan. Start today.
---
Protect Your Privacy
You may not know, but your address, the price you paid for your home, your home's current value, the size of your mortgage, and so much more is readily available on the internet, and mostly free. This information availability is a terrific advantage to stalkers, hackers, identity thieves, and others with similar motives. We can, if you want to protect your privacy, help put up a defense. Please let us know if you would like our assistance in protecting your privacy.
Testimonials
"I have had the pleasure working with Terrell Monks on several occasions. Mr. Monks gives new meaning to the word ethical attorney. He is an honest, hardworking attorney who will tell you the truth in what he can or cannot..."

A Satisfied Client

"You totally turned our lives around. We have something to look forward to. Our future is going to be bright. Very trustworthy, knowledgeable, and kept me informed. You were the best thing that happened to us in 20 years."

Michael And Tina
Read More
For The Thoughtful
Planners & Everyone Else
(Information that can help you in Estate Planning, Medicaid Planning & Trust Administration)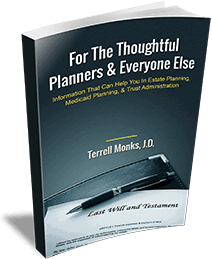 Estate Planning Tips And Tricks
Practical Advice On How To Take Control Of Your Finances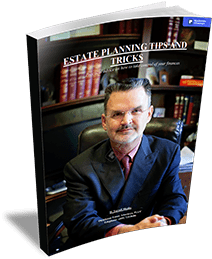 About Attorney
H. Terrell Monks began practicing Law in Oklahoma County the day after he was sworn in as an Attorney, and he has continued in practice for well over 20 years. As always, you can count on Terrell for reliable legal representation for estate planning, Medicaid, probate, and guardianships.
Our office works to provide excellent customer service, advice you can depend on, and an honest evaluation of your needs and your likelihood of success, and we treat our clients the way we would want to be treated – with courtesy, professionalism, honesty, and respect.
We expect to answer your calls and emails within a day, and usually much faster. (If we are in trial, this may not be possible)... Learn more
Areas We Serve
Edmond
Piedmont
Yukon
Norman
Nicoma Park
Spencer
Lake Aluma
Spencer
Harrah
Jones
Bethany
Del City
Forest Park
Four Acres
Nichols Hills
Moore
Arcadia
Shawnee
New Castle
Mustang