Sara Witherspoon, Esq.
---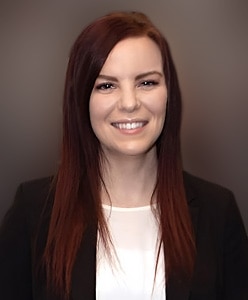 Sara grew up near Salt Lake City with the scenic Wasatch Mountains as a backdrop. She graduated with her B.A. from Southern Utah University before working as a Judge's Assistant in civil court for several years. Sara then went on to study at Penn State University where she earned joint Juris Doctor and Master of International Affairs degrees. During her post-grad studies, Sara was law school liaison for the School of International Affairs' Student Government and secretary for Penn State Law's Federalist Society. Sara also worked as a student attorney with the Rural Economic Development Clinic, where she assisted local business owners with their legal needs. In addition, Sara earned top marks in her business litigation class, receiving the CALI Excellence Award. When not hitting the books, Sara wrote blog posts and produced podcasts for Penn State's Agricultural and Shale Law Center.
Sara is a Member of the Oklahoma Bar Association and the Texas Bar Association. She moved to Oklahoma when she married her sweetheart, Jon. In their spare time, Sara and Jon enjoy taking their pup, Romeo, to the dog park, going to the movies, or having game nights with friends.